To create a PCB Design, you need to draw holes, pads and wires for your circuit. Then you send this drawing to a manufacturer or you etch it yourself.
Sounds hard? Don't worry, there are many free tools out there that will help you do this.
First--Starting with schematics
Before you start drawing wires and stuff, you need to know what circuit you want to build. So you need to find or design schematics for your circuit. And you need a PCB design software. Then you are ready to begin the process.
Start by drawing your schematic diagram into the software you have chosen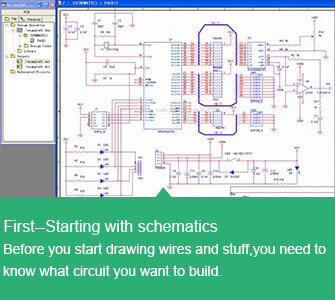 Second--PCB design process
Preparing the board layout
Now it's time to draw the board. You need to transfer your schematic diagram into a drawing of your printed circuit board.
Drawing PCB's is artwork. Take your time, and make sure it looks good.
Most PCB software will have tools that will help you draw your board from the schematic.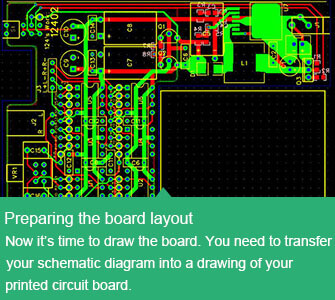 Third--Getting your PCB manufactured
When you are done drawing your board, it is time to get your PCB design ready for manufacturing .
This basically means you need to check your board for errors and convert your board layout to Gerber files.Then choose a proper PCB manufacturer and get your board made.
Fourth--Recommend Several Common PCB Design Software
There are many circuit design softwares available to satisfy diversified layout requirement, including free PCB design software, online free PCB design softwares, and industrial PCB softwares. This is the PCB design software list and brief introduction. You can have a comparison based on the introduction.
1.Altium Designer(upgraded version of Protel)
Altium Designer belongs to Altium, mainly running the Windows operating system.
The software provides designers with a completely new design solution,by combining schematic design,circuit simulation,PCB layout,and design output.
Designers can easily design, proficient use of this software, which greatly improves the quality and efficiency of circuit design.
2. PADS (PowerPCB)
It belongs to Mentor.You can describe it the king of CAD in the low side. As far as I am concerned, it is the best EDA among the similar EDA for its easy-to-use, easy-to-learn. The quality of the design would not be worse than WG, Allegro. It is the most widely used EDA in the market and it is also very suitable for small companies.
3. Cadence Allegro + OrCAD
Cadence is the largest EDA software provider in the world, is a world leader in EDA, has two well-known OrCAD and Allegro SPB brands in the field PCB design. OrCAD is a brand acquired in 2000, Allegro SPB is its own brand.
OrCAD covers the low-end market (easy-to-use tools at very low prices, primarily competing with Protel and Pads), Allegro SPB covering the mid-to-high end market (competing with Mentor and Zuken)
However, ORCAD's principle enjoy great fame in the industry since its friendly user face, simply operation function, and strong function of simulation. Comparing to DX designer, I vote for OrCAD. But DX designer has better management function, better integrated environment.
4. Express PCB(WG2005) (Mentor)
It belongs to WG Mentor. They introduced WG 2005 based on Windows. Layout comes first to identify whether it is a great software when there are obvious advantages and disadvantages in the medium and high market. I have to say WG2005 is amazing in layout, it can be said as the king of layout since it has strong function in layout automatically and the rule for layout is very professional. Expedition PCB is the core of WG, and WG2005 contains DX,DC,DV,LIB,EXP.
5. Eagle(Easily Applicable Graphical Layout Editor)
It has friendly user face and strong schematic diagram function. It is not free but its price is acceptable. It has super function like online positive and negative annotation function, batch command execution script file, copper cladding, and interactive follower.
6. Kicad
Kidcad is an open source software and it abide by GNU's GPL copyright agreement. Kicad uses graphical user interface, which is very convenient to use
with the mouse and keyboard, moreover, you can use is Windows and Linux.
7. PROTEL
PORTEL company introduced the circuit design software (CAD) PROTEL in the circuit industry in the the late 80s, 20th century, which is deservedly ranked highly among many EDA software and is circuit designers' preferred software.
Many universities' circuit specialties have the specific courses to learn how to use PROTEL, and almost all of the circuit companies have used it for their work.
It is good for one or two layers' board, however, it becomes a little bit hard to use when it comes to more than 4 layers, not to mention the PCB design in signal transmission of high frequency and high-speed digitization.
8. More Free PCB Softwares
PCBWeb Designer, ZenitPCB, TinyCAD, Osmond PCB, BSch3V, Express PCB, gEDA, Fritzing, DesignSpark PCB
If you are a student or a amateur, you may not need to use above several layout softwares. You can just use Kicad, PROTEL or some free online PCB design software. You can get your pcb cheap and easily in PCBA STORE.
If you have any comments or suggestions about this post, please leave a reply here or contact us and we will do our best to assist you!