All most people say that I don't want my PCB board to be damaged by water or moisture, but how could I do? Don't warry, by using conformal coating would help you a lot. Conformal coating is a very special formula painting used to protect PCB and related equipment from environmental erosion like moisture damage. It plays an important role of protection for printed circuit boards and can effectively acts like a moisture-proof, anti-corrosion and anti-salt mist effect to improve and extend the PCB lifespan and ensure the use of safety and reliability. Conformal Coatings are very common but effective tools that used to prevent the PCB from damaging. After we clean the printed circuit board, what we need to do is just spray the product on it then everything would be OK. It will leave a thin and transparent coating for protection. So in this article, we introduce 3 kinds of frequently used conformal coating for printed circuit board.

Three Different Conformal Coating for PCB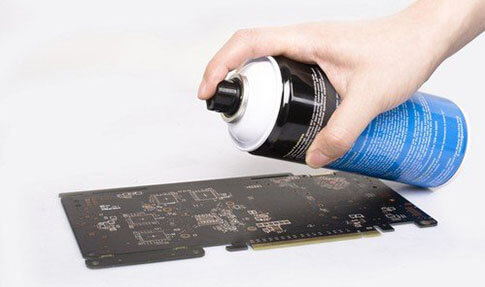 1. Acrylic Acid Conformal Coating


This kind of conformal coating is best worked in the range of 60 to 130 degree. At normal temperature, it takes a few minutes for surface immobilization, and would take about 24 hours for totally immobilized state. But if we could heat it to 60 degree, then it just take half an hour to achieve that. The kind of conformal coating's price would be a little cheap , so generally speaking, we could use it in consumer electronic products, like TV, moblie phone and instruments.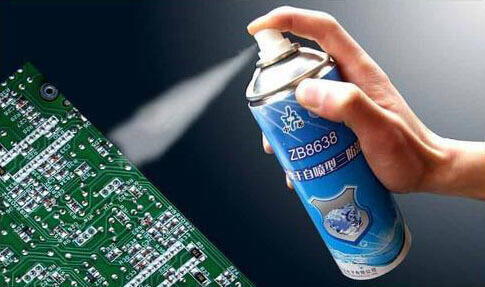 2. Polyurethane Conformal Coating
The polyurethane conformal coating is better than acrylic acid, when it is immobilized, the formative film is more tough, and the effect of moisture-proof, anti-corrosion and anti-salt mist is also better, totally no toluene and no smell. It's suitable temperature also between 60 to130 degree. The time of immobilization is the same as acrylic acid. The polyurethane conformal coating could be used in industrial control, electronic power and transducer area.
3. Silicone Electronic Moisture-Proof Plastic
The silicone electrnoic moisture-proof is very easy to use to protect pcb from moisture. It's immobilization speed is very fast. The surface immobilization just needs 10-30 minutes in normal temperature. The abrasion resistance is very powerful . It's very adhesive to printed circuit board. The acceptance temperature could be -60 to 130 degree.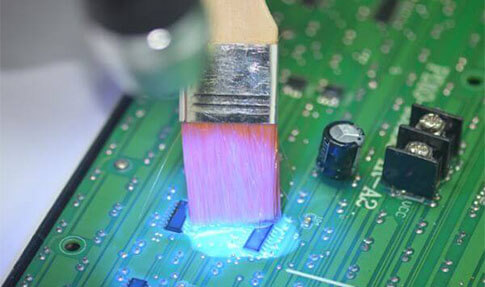 Moisture Threats for Printed Circuit Board

Water is a very good conductor of electricity, so if too much moisture on the printed circuit board could easily damage it and cause shorts and corrosion, that would be a great threads to our PCBs. Actually, the moisture can be introduced or diffused onto printed circuit board materials and surfaces during PCB fabrication, assembly and packaging or storage. Due to the damage that moisture can promote or facilitate it is imperative that PCB moisture protection methods are applied.
Protect PCB from Moisture Damage During PCB Process
1. Protect PCB from Moisture Damage During Fabrication
Perform lamination in a controlled environment such as applying regulated temperature so that there is no extra moisture.

Ensure prepregs are moisture-free and bake the prepregs if necessary

Use meshed copper planes

Apply surface finishing and facilitate assembly by providing a good foundation for soldering connections
2. Protect PCB from Moisture Damage During PCB Assembly
Baking the PCB after assembly is very common way to remove moisture from PCB, but be careful of too much high temperature

Apply proper coating for the PCB to prevent the moisture
3. Protect PCB from Moisture Damage During Packaging and Storage
Store boards in moisture barrier bags for the best protection against moisture

Follow IPC Guidelines which offers great suggestions for packaging and storing PCB boards
More and more people keep asking me how to keep the PCB board working even in water environment or against bad environment. By using those above mentioned conformal coating for printed circuit board, we could easily protect the pcb from water damage. If you want to know more about conformal caoting knowledge or the price of PCB board painting it , you could contact PCBA STORE or email Emma sales03@pcbastore.com, just tell her your confusion and answer.
Truly hope this could help you a lot.