With diversified layout requirement, Many different kind of PCB design softwares are chosed by electronics engineers, Here you can find brief introduction and recommendation for PCB design software list from our experienced engineer team. You can have a comparison based on the introduction.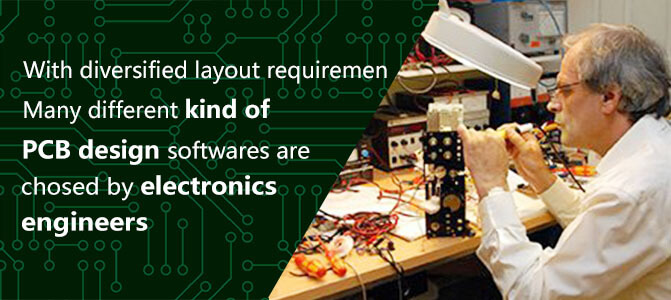 1.ORCAD
Fast, intuitive PCB schematic design solution
• OrCAD enables electronic engineers to bring their product creation ideas to life. We deliver electronic design tools to help electronic engineers around the world.
• OrCAD PCB design suites provide the industry's best mix of cutting edge capabilities and excellent scalability with various options to add capabilities as the design needs grow.

2.Eagle(Easily Applicable Graphical Layout Editor)
Bring your electronic inventions to life with a complete set of PCB layout and schematic editing tools, library content, and community-driven features.
It has friendly user face and strong schematic diagram function. It is not free but its price is acceptable. It has super function like online positive and negative annotation function, batch command execution script file, copper cladding, and interactive follower.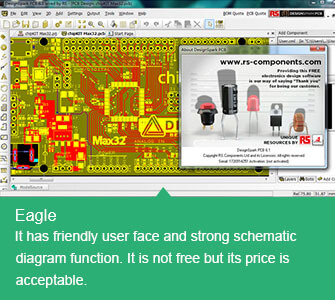 3. Kicad
• Schematic Capture
With the schematic editor you can create your design without limit; there are no paywalls to unlock features. An official library for schematic symbols and a built-in schematic symbol editor help you get started quickly with your designs.
• PCB Layout
Make professional PCB layouts with up to 32 copper layers. KiCad now has a push and shove router which is capable of routing differential pairs and interactively tuning trace lengths.
• 3D Viewer
KiCad includes a 3D viewer which you can use to inspect your design in an interactive canvas. You can rotate and pan around to inspect details that are difficult to inspect on a 2D view. Multiple rendering options allow you to modify the aesthetic appearance of the board or to hide and show features for easier inspection.
4.PADS (PowerPCB)
You can describe it the king of CAD in the low side. As far as I am concerned, it is the best EDA among the similar EDA for its easy-to-use, easy-to-learn. The quality of the design would not be worse than wg, allegro. It is the most widely used EDA in the market and it is also very suitable for small companies.

5. EasyEda
EasyEDA is a free EDA tool suite free,which is Web , cloud-based and zero-install integrating powerful schematic capture, mixed-mode circuit simulation and PCB layout in a seamless cross-platform browser environment.
• Cool Schematic Capture
Draw schematics quickly using the available libraries on browser. Seamless automatic upgrades.
Clever Spice Circuit Simulator
Verify analog, digital and mixed signal circuits with spice subcircuits and models!
• Online PCB Design
With multiple layers, thousands of pads, you could still operate quickly and layout smoothly.
Import PCB and Schematic files
Import your designs from Eagle, Altium, Kicad and LTspice
6. PCBWeb Designer
PCBWeb is a FREE CAD tool for PCB Designing for Electronics hobbyists. If we need to duplicate a project or just need to use some previously made libraries in Eagle, then that is the time "Import Part Libraries" feature will be handy.
Eagle Libraries – If you extract the parts library from an eagle file, then you will have this eagle parts library with a file extension of ".lbr".
7. ZenitPCB
With ZenitPCB Layout is possible to create the project starting both from the schematic capture or by the layout itself.
• In the first instance you can import a netlist (file ASCII containing electrical info) from different schematic capture ( Orcad®, Pads®, Multisim®, Protel®, Eagle®....), whit all the components and the relative electrical connections (net).
• In the second instance, you can realize your project directly from the layout editor, importing components from the library and connect the pins directly with the cursor (auto ratlines).
It is, therefore, possible to create a board without import a netlist from Schematic capture.
ZenitPCB Layout has all the need to achieve a good printed circuit board, is singleside both doubleside, using the rules of individual project or general, through the net class. Here you can find some pcb Features.
8. TinyCAD
TinyCAD free download. Always available from the Softonic servers
• Free & fast download
• Always available
• Tested virus-free

9. More Free PCB Softwares
There are also other free pcb design software available such as Osmond PCB, BSch3V, ExpressPCB, gEDA, Fritzing, DesignSpark PCB
PCBASTORE has experienced engineer team, who will help you with your design. Welcome to a heated discussion with us about your electronics projects here.
If you have any comments or suggestions about this post, please leave a reply here or contact us and we will do our best to assist you!