Because of characteristics of the good heat dissipation, the aluminum plate, which is kind of direct drive cooling products develops very fast in the PCB industry. With the high heat resistance voltage and low thermal resistance, the products combined with aluminum plate has much longer life and are welcomed by the LED industry.
And with the rapid development of technology, quickly improved aluminum PCB related equipments, the aluminum PCBs' price has become more and more affordable for most clients. So if you have purchase requirements for aluminum, please feel free to contact PCBA STORE here.
What is Aluminum PCB?
The aluminum substrate is a metal coated copper plate with good heat dissipation function. The general single panel consists of three layers, which are the circuit layer (copper foil), insulating layer and metal base. For high-end usage, there are also design for double layers, which are consisted of circuit layer, insulation layer, aluminum base, insulation layer and circuit layer. Very few applications are multilayer, which can be made from ordinary multilayer plate and insulation layer, aluminum base. And more and more start to use aluminum PCB in their business.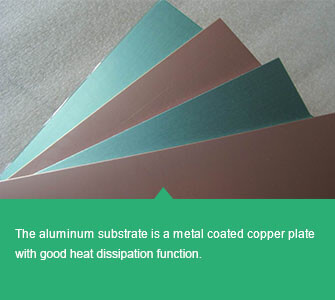 Aluminum PCBs vs. Standard PCBs
Different materials in PCB creations have quite different usage. Printed circuit boards with aluminum cores (known as aluminum PCBs) have different properties from standard printed cicruit boards (without metal substrates). These two widely used printed circuit board type are very popular in consumer electronic area. But if you want to know whether an aluminum pcb is better than standard printed circuit board or not, it will much depends on your actual intended application.
Pros and Cons of Using Aluminum PCBs
Pros of Aluminum PCBs
Because of the excellent thermally conductive features, the aluminum PCBs could easily keep heat away from vital components to make sure minimal circuit damage.

The high heat tolerance could let it easily deals with high density circuits and larger power levels

The substrated of aluminum alloys could lower the breakage risk of the aluminum PCBs

Aluminum PCBs are quite environmental friendly

Aluminum PCBs are very strong but lightweight metal compared with base materials


Reasonable PCB cost
Cons of Aluminum PCBs
Compared with standard PCBs, it has higher price


If you are not invovled with high temperatures, aluminum won't be that useful


The aluminum PCBs can not withstand too much vibration stress

Types of Aluminum PCBs
The Applications of Aluminum PCB
Generally speaking, if the printed circuit boards should be exposed to large mechanical loads, or a high level of dimensional stability is required, or we must pass the high temperatures from power components or LED's, then aluminum core PCB or IMS (Insulated Metallic Substrate) circuit boards could be an excellent alternative to those standard printed circuit boards.
The thermal conductivity assisted by the aluminium core in the printed circuit boards makes the aluminum PCB has much higher packing densities, longer operating times, and improved security against possible failure, such as for LED technology and for high power transistors.
There are a few additional applications could use such aluminum PCB technology, such as the high current application, power LED, SMD and power circuit boards. The high thermal conductivity allows the quick and effective transfer of the heat produced in the applications.

Aluminum PCB Will Be Used In What Kind of Products?
Audio equipment: Input, output amplifier, balance amplifier, audio amplifier, preamplifier, power amplifier, etc.

The power equipment

Switching regulator, DC/AC converter, SW regulator, etc.

Communication electronic equipment

Office automation equipment

Motor drive, motor car

Electronic regulator, igniter power controller

Computer

CPU board, floppy drive power supply device

Power module

Inverter, solid relay, rectifier bridge

Lighting lamps and lanterns
With the promotion of energy-saving lamps, all kinds of energy-saving LED lamps are popular in the market, and the aluminum base plates applied to LED lights are also widely used.
Hope above information will helpful for you to finish your aluminum PCB design!
If you have any comments or suggestions about this post, please leave a reply here or contact us and we will do our best to assist you!