What is custom shielding? Why is custom shielding important? Custom shielding has become an essential part of the PCB and electrical industry. The reason for the growing demand is the use of digital circuits in most devices. In the current condition, devices are coming with digital circuits, and these circuits feature semiconductor devices. They need high frequencies for operating. The high frequencies are harmful. Here the custom shielding comes in to create a safe shield to prevent harmful emissions.
The objective of custom shielding is to prevent device malfunctions and harmful EMI emissions. It will ensure the safety and durability of the end product. At the same time, it will minimize the risk of diseases that one might get due to constant EMI exposure. The harmful emissions can cause pollutions as well. In the following, we will know more about custom shielding and its benefits. We will also discuss EMI shielding.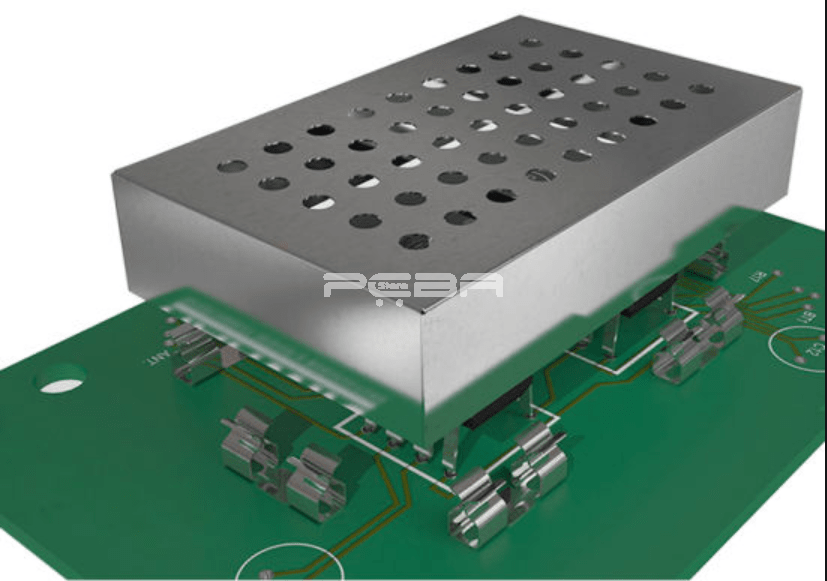 What Is Custom Shielding?
It is the process that helps to customize RFI or EMI shields. The shield will minimize the electromagnetic wave's transmission. Also, it will prevent intrusion in your sensitive electronic tools. In brief, we can say that the EMI shield will limit the electromagnetic waves. It will stop those waves to enter or leave a device. When it comes to the RFI shields, they will stop the radio frequency intrusion.
What is the need for custom shielding in electronic devices? In the absence of custom shielding, emitted electromagnetic waves from your electronic devices might cause malfunction. In addition to the malfunction, the EMI radiation can harm humans working in the automotive or aeronautic industry.
Custom board shielding can prevent such a possibility. It can be used in different industries that include medical devices, aviation electronics, security devices, automotive components, computer electronics, military electronics, and telecommunication devices.
What Is EMI Shielding?
The rapid growth of electronics and telecommunication devices has caused a kind of pollution. We call it electromagnetic interference or EMI. EMI is a radiated EM signal that can cause malfunctioning in gadgets. As mentioned earlier, constant exposure can affect the humans working in that environment. Continuous EMI exposure will increase the risk of heart diseases, asthma, cancer, miscarriage, and migraine.
EMI shielding will absorb the EMI radiations by using a shielding material. The material will act as a shield and prevent the radiation penetration of high frequencies. As the shield blocks the EMI radiation, it is called EMI shielding.
Advantages of Custom Shielding
There are many benefits of custom shielding. First, it will prevent harmful EMI emissions. Here are more details.
Minimizes electromagnetic transmission

Avoid electronic device malfunction

Creates a safe environment for people working in those industries

Prevents the radio frequency intrusion
EMI emissions can harm both electronic devices and humans. Regular exposure will impact human's physical and mental health. When the EMI exposure is minimal, people can safely work in those industries. They will not be exposed to those harmful emissions. They will not be prone to both severe and mild diseases.
Types of Custom Board Shielding
There are three main types of this board shielding. These are one-piece mount, two-piece SMS, and CBS 2.
1. One-Piece Mount
The one-piece mount is available in two types. When the first type will come as covered, the second one will come as vented. The covered option is considered the best for different applications. As it will come covered, it cannot access the internal component. Also, it does not need vents. The vented option can be used for some specific applications. Users can consider a vented option when the air passage is needed for proper functioning. It can be the right choice when internal components are not required.
2. Two-Piece SMS
You can get two options in the two-piece SMS, like the previous one. These two options are the low-profile SlimSheild and spring finger. These two types feature configurable PDF diagrams. The low-profile SlimShield comes as the board level shielding line. It is designed to become a low-profile piece. Therefore, it will have a dented cover with etched holes on its fences. Also, the shield height is worth mentioning. The height of this type can be as short as 0.060 inches.
In addition to the above, this shielding process provides a wide range of design freedom. Users can expect fast delivery as well. The standard hollow in the shield will offer different locations. When it comes to the price, it is affordable and comes with an excellent cover holding. All these qualities make this type a perfect choice for different applications.
Spring Finger
It is different from all the other types mentioned above. It features a spring finger design. It comes with an attachment cover and fence. The design makes this custom shielding the right choice for different configurations. Engineers use it to customize l-shaped, v-shaped, rectangular, and irregular shaped configurations. For this design, PCB tinning and brass plating are required. These materials are easily accessible.
3. CBS 2
Another popular type of custom shielding is CBS 2. It comes as a six-sided shield. When it comes to the material, different materials are used for this custom shielding. The normal base materials used for this shielding are mercury material, pre-tin plated phosphate bronze, pre-tin plated steel, and alloy 770 shapes. The alloy 770 shapes material is used for T-shape, L-shape, square shape, and rectangular shape configurations. Also, CBS 2 features input-output cutouts. These are also known as the mounting hardware when used for PCB. CB2 custom shielding can lock dimple holes and ventilation holes.
These are different types of custom shielding. All of them come with some distinct features and specific designs to serve some particular applications.
Conclusion
From the above, you might have an idea about what custom shielding is and why it is a must for electronic devices. In the current condition, electronic devices are designed in such a way that they can cause harmful EMI emissions. Without custom shielding, you cannot use your electronic devices safely. The EMI might cause device malfunction and can harm your body in many ways. In addition to the above, the RFI's filtering and EMI shielding can minimize interference.