Are you looking for information about wireless charging systems? Do you wish to know about wireless cellphone charger PCB? Here is an article tailor-made for you. In this article, you will get details about the PCB board on wireless charger along with information about how it works. As a bonus, you will also get to know what are the different things to keep in mind when designing a wireless charger. So, read along!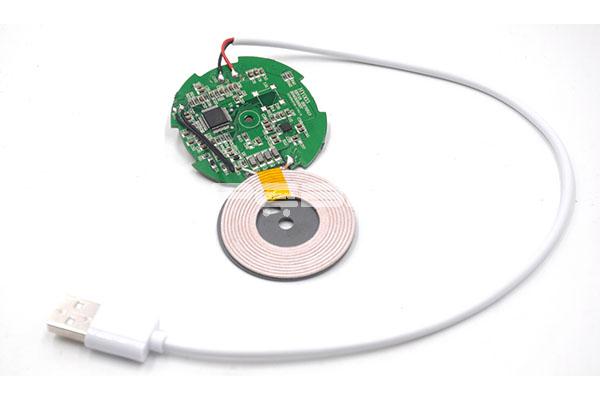 What is a wireless cellphone charger?
A wireless cellphone charger is a kind of device that efficiently charges a compatible mobile phone or cellphone when that is kept nearby. The wireless charger can charge the device with no physical contact and just by transferring wireless current having high frequencies.
How PCB works in the wireless cellphone charger?
A printed circuit board, more popularly known as PCB, provides mechanical support apart from electrically connecting the electronic components through signal traces, conductive pathways or tracks, etched minutely from the copper sheets that are laminated on the surface of a non-conductive substrate.
To begin with a wireless cellphone charger, at first, the power transmitter circuit is to be joined to the main connection supply for bifurcating the power to the mobile phone module. The proper design of the transmitter circuit is crucial for which Tesla's popular pancake coil arrangement is followed.
After this, here comes the role of PCB. A smaller layout of the pancake coil to be used is etched and wired over the PCB very carefully and accurately. The PCB layout gives a compact shape to the design and prepares it for smooth operation. The layout can be oval-shaped or can be a square as well.
Thus, PCB is essential for effectively designing electronic circuits. You can create PCB designs manually as well as automatically. PCBs are one of the basic components of electronic devices. A smart PCB design lessens the chances of errors and the possibilities of electrical hazards such as short circuits. PCBs are one of the crucial inventions that transformed the world of electronic technology and improved it manifold.
What are the things to consider when designing a wireless charger?
In the case of wireless charger PCB design, there are certain things that you need to consider as far as designing the charger is concerned. Here are the 5 things that you should make a note of:
User experience
Before you begin designing a PCB board on wireless charger, you should have a clear idea of how the customer is going to interact with the device. You should understand users' requirements and then prioritize them before designing an efficient wireless system.
Charge efficiency
Efficient charging systems offer improved directional flexibility, lesser calorific value, longer distances, reduced size and most importantly, reduced power leakage current. The three main modules in a wireless cellphone charger PCB include a power amplifier, wireless link and rectifier.
Power level
Magnetic field coupling can be used by wireless cellphone chargers PCB to charge mobiles starting from milliwatts and continuing till kilowatts. In the case of milliwatt devices, RF wireless power or energy collection is a more feasible charging alternative. The equipment's power requirements determine its size and the selection of the components.
Standards and regulations
Presently, wireless charger PCB comes with numerous standards including Power event alliance, Wireless power alliance and Wireless charging alliance. These standards organizations aim to offer a platform that leads to successful interoperation between receivers and transmitters. They also offer guidance on component innovation that fulfils the regulatory requirements.
Component selection
If you are a newbie in the world of wireless charging design, it is always better to consult design consulting firms or component suppliers. Since they are experts in this field, they can better help you with the design requirements. In the sector of wireless charging, several component firms develop highly efficient technologies.
With the recent advancements in system architecture, chips and components, engineers are now imaging and visualising improved wireless charging devices and systems. Technologically upgraded wireless charging systems are yet to make it big in the world of charging devices. If technological improvements continue in this way, the era of wireless charging is to usher in very soon as a boon to the customers.